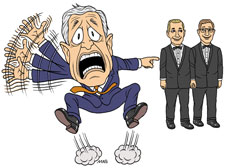 Well, we are only 2 hours and 45 minutes away from same-gender couples enjoying the same wedded bliss that hetrosexual couples have been trying to squirm out of for years!
The Righteous Flock is in a panic over this. I got the following letter TWICE today from our NoNecked friend Rev. Donald Wildmon. I give this to you with no editorial comment. None is needed.
-----------------
Dear Pastors, Friends and Christian Leaders,
We have labored to make this letter as short as possible. However, the gravity of this moment caused us to need to share several critical items. Please read carefully – at least this first page.
The landscape of California will change dramatically as of Monday, June 16 at 5:01 PM. Every Bible believing pastor and church will be affected.
STATEWIDE CONFERENCE CALL
Please join with pastors and Christian leaders all across California who are coming together at 43+ locations for a statewide Pastors Strategic Conference Call, Wednesday, June 25, at 10 AM.
Here are the locations currently confirmed from which you can choose:
Alhambra - Los Angeles Chinese Alliance Church
Alta Loma - Crosslight Family Ministries
Azusa – Azusa Pacific University – Graduate School of Theology
Bakersfield - Canyon Hills Assembly of God
Chino Hills - Calvary Chapel Chino Hills
Chula Vista - La Comunidad Christiana
Corona - Crossroads Christian Church
Crestline - First Baptist Church
Diamond Springs - Calvary Chapel Placerville
El Centro - Christ Community Church
Encinitas - El Camino Christian Church
Escondido - St. Mary Catholic Church
Fresno - Cornerstone Church
Fullerton - Eastside Christian Church
Glendale - Bethel Assembly of God
Huntington Beach - Refuge\Calvary Chapel Huntington Beach
La Mesa - Skyline Church (Host Location)
Lakewood - Emmanuel Church
Lancaster - Central Christian Church
Lompoc - The Village Chapel
Long Beach - Calvary Chapel North Long Beach
Los Angeles - Bethany Baptist Church
Oceanside - New Venture Christian Fellowship
Paso Robles - The Revival Center
Porter Ranch - Shepherd of The Hills
Porterville - Porterville First Church of the Nazarene
Riverside - St. Andrew Orthodox Christian Church
Sacramento - Fourteenth Avenue Baptist Church
Sacramento - Riverside Wesleyan Church
San Diego - Clairemont Christian Fellowship
San Diego - Midway Baptist Church
San Jose - Venture Christian Church
San Luis Obispo - Mercy Church
Santa Maria - First Church of God
Santa Rosa - Santa Rosa Nazarene Church
Shasta Lake - Fountain Ministries World Outreach
Stockton - Trinity Baptist Church
Susanville - Grace Fellowship Church
Temecula - Trinity Lutheran Church
Temecula - Mountain View Community Church
Vacaville - Crossroads Christian Church
Victorville - Gate Church of the High Desert
Wildomar - Beracah Faith Ministries International

(More to be added)
If you, as a pastor, are willing to host a gathering of pastors and Christian leaders at your church, or you know of a pastor who will host, please contact Chris Clark at pastor@eastclairemont.com or 858-395-7136. You need to have speaker-phone capability that can be adequately amplified, along with PowerPoint capabilities for visual purposes.
Additionally, please forward this email to as many pastors and Christian leaders as you can or email reply with the email addresses of pastors and Christian leaders so that we can keep them informed of future developments.
(NOTE: If you have no time to read more, thank you for reading this far. Please skip to the final two paragraphs and sign up to attend or host a location.)
This statewide conference call will be audio only, although we are attempting to provide each site with PowerPoint visuals to make the conference more "informationally friendly." Be assured that the information shared will be extremely beneficial for the future of the cause of Christ in California. Saying it another way, it is worth canceling all other appointments in order to be present at one of these locations.
In a few days, the impact of four California Supreme Court judges will be felt throughout our state. Since things will "feel the same" (no lightning, thunder, earthquakes – likely), the naysayers will say, "See, we told you, it isn't the end of the world."
However, there is much more subterranean activity than there is on the surface. Your role – as a Christian pastor in this state – will have changed and it will have changed significantly. We have from now until the November elections to alter this.
RESPONSE OF THE GAY COMMUNITY
A "Joint Advisory" (see http://www.freedomtomarry.org/pdfs/ca_joint_advisory.pdf ) was sent out by nine organizations (GLAD [Gay and Lesbian Advocates and Defenders], Lambda Legal, the National Center for Lesbian Rights, Equality Federation, Freedom to Marry, GLAAD [Gay & Lesbian Alliance Against Defamation], the Human Rights Campaign, the National Gay and Lesbian Task Force, and the ever present ACLU) cautioning their members not to launch lawsuits now. Not yet, at least.
The language of the document is obvious: They are instructing their members to lay low, and not stir up trouble now. In essence, they know they can sue. But do it later. They openly admit that suing now will set their cause back (see their document). In other words, they know that they have the legal advantage on this one. But if they use it, and press the issue, this will inform the "mushy middle" (people who indecisive on this issue) of exactly what has happened, and it could affect the outcome of the California Constitutional Marriage Amendment in November.
WHAT DOES THIS RULING MEAN?
How does the California Supreme Court ruling affect pastors? Are we forced to perform marriages for homosexual couples? Are we forced to rent our church buildings to homosexual couples who want to get married?
One large, highly visible church in the greater LA area received a call from a prominent LA newspaper. The reporter wanted to know if the church was ready to perform homosexual marriages. The pastor was not available so the person who took the call responded, "No comment." Agitated, the hostile reporter said, "I'll call back June 17 (the day after the ruling takes effect) and will ask you if you will marry homosexual couples."
After talking with attorneys, there are several things emerging:
(1) On page 117 of the California Supreme Court ruling, it exempts pastors, stating the following: "Finally, affording same-sex couples the opportunity to obtain the designation of marriage will not impinge upon the religious freedom of any religious organization, official, or any other person; no religion will be required to change its religious policies or practices with regard to same-sex couples, and no religious officiant will be required to solemnize a marriage in contravention of his or her religious beliefs. (Cal. Const., art. I, § 4.);"
(2) However, before you breathe a sigh of relief, I quote what one person wrote to me this morning: "This decision has to be viewed within the matrix of California's existing laws that cover individuals within a 'protected' class.'" Regretfully the same court that affirmed this protection could take it away;
(3) There are numerous Christian legal organizations and attorneys who are willing to defend you pro bono should the need arise;
(4) We are not given to a spirit of fear;
(5) We must be as wise as serpents and harmless as doves (Matt 10:16), and
(6) We need thorough and correct information.
Bottom line: at our June 25 Statewide Pastors Conference Call, Christian attorneys will instruct and guide us on these issues.
In addition, we will cover the strategy for preparing for (and winning) the California Constitutional Marriage Amendment vote in November. This is a winnable war. And, unfortunately, the freedom to proclaim the Gospel hinges on the outcome of this election.
One of the things I am most excited about is our upcoming 40 Day Statewide Fast, from September 25 to November 2. Individuals may fast portions or all of the 40 days, as they are led, or they may fast in "relays" as teams.
A culmination of this 40 day period will be THE CALL (see the event in Washington, DC at www.thecall.com). THE CALL CALIFORNIA will be held at Qualcomm Stadium in San Diego, Saturday, November 1, from 10 AM to 10 PM – involving men and women of God from every denomination – all united to create a climate of ongoing prayer and fasting in our state and across the nation. We will cover many details regarding prayer and fasting in the June 25 statewide conference call. In our hearts, we know that what is really needed is more than a voting victory in November. What is needed is revival and an avalanche of Holy Spirit-given evangelism. That is why we pray.
Some County Clerk's offices are staying open late on Monday, June 16, to accommodate marrying homosexual couples. Others will begin the process Tuesday morning, June 17. This event is an opportunity for Christian pastors to be "in the mix" and speak out in the media.
If (and I repeat "if") you are (1) called of God to do it (don't do it if you are not called by Him), and (2) if you are inherently media savvy, and (3) if you truly know the key issues upon which to focus for a secular audience, and (4) if you will not be inflammatory in your language, but loving in both speech and demeanor, then may I recommend you to go to your respective County Clerk's office on Monday evening or Tuesday morning – or both. Hand your card to media personnel and let them know who you are and that you are willing to make comments. For the most part, they do prefer to attempt to present "opposing views."
I cannot emphasize enough the importance of being firm, be loving. If you appear to be scared or angry or portraying "hate," then that will be trumpeted by the anti-biblical crowd. It is imperative that we are as loving as Christ, while not flinching under pressure. My suggestion, do not go if you feel you cannot follow the four principles above.
I have done over 300 interviews (some of them under hostile conditions), so may I share a couple of points of advice? They are:
1. Put a "smile in your eyes" (seriously – try to do this when on camera).
2. Know the key points – clearly – backwards & forwards (see below).
3. If you are asked a question that is "off message" – gently direct it to "on message" in your answer.
4. If a question is asked in an hostile fashion, smile and answer calmly and slowly. Remember, a soft answer does turn away wrath.
5. Never, never raise your voice; talk calmly – reflecting the peace of Christ.
6. Don't quote Bible verses to a secular audience (which will be the case in media interviews); make your case based on Christ-honoring truth, but avoid quoting verses unless that is the nature of the question.
Four judges overruled the will of the people, Prop. 22 which passed by 61.4% in 2000, and was placed in the California Family Code indicating marriage is the union of a man and a woman. Key words: "usurping," "tyranny of the judges," "preempting the will of the people." The judges overturned Prop. 22 on May 15. They were asked if they would put a stay on their ruling until the citizens of California could vote on the Marriage Amendment, since the necessary signatures were being validated (694,000 required; 1.1 million obtained). On June 4, the judges refused to do so, thus creating legal chaos for the state when the Marriage Amendment vote is successful. In other words, people will be married under the ruling of four judges, and those marriages will have to be reconsidered in the light of the Marriage Amendment in November. All of these are key issues that honest minded people find offensive.
Children (particularly significant on this past Fathers Day weekend) deserve a chance to have a father and a mother. This produces the best environment for producing healthy human beings.
Do not use the phrase "ban same sex marriage;" that plays into the opposition's court. Use correct phrasing: "destroying the definition of marriage that has existed in California's 158 year history – since 1850, and the history of most of Western Civilization.
NOTE: These first three are all you need. The remaining ones are only if you need them. You will likely not need these.

Virtually every culture has affirmed the role of heterosexual marriage. There is a reason. It works.
Two pronged approach: (a) for people who see themselves as Christians, the Bible speaks clearly on this; (b) for those who are not concerned with the Bible or Christianity, there is an awareness of "natural law," in that males and females function together in a particular role that sustains and provides health to the human race.
Loss of religious liberties; loss of freedom of speech, in that Canada and Sweden, for example, are now ruling that the Bible is "hate speech," at some point, pastors will lose their right to speak out on this issue; pastors will be forced to perform homosexual weddings or face imprisonment and fines;
Social experiments are costly and devastating to the health of humans and societies.
If we redefine marriage, why stop with same sex? Why not polygamy? Why not incest (under age)? What is the basis for stopping with this definition of marriage? Why not further expand it?
Do we need public school curriculum to advocate homosexual activity?
I pray wisdom for you as you process what God is saying to you in this regard. If you want further key points to discuss, go to www.ProtectMarriage.com.
Most importantly, join with us Wednesday, June 25 at 10 AM – at one of the above locations – or please host one yourself. Reminder: contact Chris Clark (pastor@eastclairemont.com) ASAP if you are willing to host.
To insure sufficient materials are available for those attending at each location, RSVP to Tracy Burger at tburger@skylinechurch.org now with your name, the name of the church you are representing, your position at that church, your email and phone, and the site you will be attending.
I pray blessings on you this day.
Your brother in this ultimately victorious battle,
Jim Garlow, Sr. Pastor
Skyline Church, San Diego