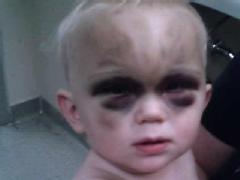 There seems to be an obsession online these days about protecting the children.
Its an obsession that has affected the way social networks are run, and the level of censorship certain sites do.
MySpace makes deals with the state of New York. Multiply announces that it is now "family-friendly." Facebook goes into extra filtering. And the terms of service pretty much limit discussions to that of rainbows, needlepoint, and car trips.
All to protect the children.
I know there are people online...some I know...who have had very loving relations with thier families and others. Close enough to worry statdard society. These are people that we protect the children from for some reason. I will not say thimps up or down on this here. But I wonder, as we carrling certain people demons because it's easier for us? Or that, there for the grace of God and Family Services go I?
Bacause while we try to protect children from thier own wants and desires, where are all those same people where other kinds of abuse happens.
All of this actuall happened this week....
A Mandan, ND woman faces a felony child abuse charge after witnesses told authorities she endangered her baby on a city street.

Twenty-five-year-old Pamela Seidel is accused of being drunk when she pulled a car seat carrying the baby down the street, using a dog leash.
http://www.kxmb.com/getArticle.asp?ArticleId=252138

CAPE CORAL, Fla. - A Lehigh Acres man accused of beating a 3-year-old boy to death last year in Cape Coral will not face the death penalty.

Kashon Scott is charged with one count each of first-degree murder and aggravated child abuse in the killing of Zahid Jones Jr.

Friday in court prosecutors announced they won't seek the death penalty against Scott.

The boy's mother, Nicole Brewington, is also charged with aggravated manslaughter of a child.

The two are scheduled to next appear in court in August.
http://www.winknews.com/news/local/22120254.html
QUEENSBURY, NY -- In an unusual move, a Warren County judge today lightened the sentence he imposed on Thursday to a Glens Falls mother convicted of ignoring fatal injuries her live-in boyfriend inflicted on her infant son.
Alicia Lewie will now serve 7 1/3 to 22 years in state prison for doing nothing to save her 7-month-old son, Colbi, from Michael Flint Jr., the man who admitted he repeatedly beat the child and eventually killed him.
Judge John Hall had initially sentenced the 24-year-old woman to 10 to 30 years in state prison for her jury conviction on charges of second-degree manslaughter and endangerment.
But Hall brought Lewie back to court today to re-impose the sentence.
http://timesunion.com/AspStories/storyprint.asp?StoryID=699602
And it goes on and on and on.
Then we have the spare-the-rod-spoil-the-child method of raising a child. You know...how many people have said "My daddy beat me within an inch of my life and today I am better for it and I do that to my kids too." I have been, as I have said in the past, beaten with a extension cord, a hot iron, sticks, tree branches, belt buckles, fists, and I have been almost killed with a bucther knife, not to mention having a gun pointed at me three times.
By my parents.
They lived long lives. Of course, had they had sex with me, they would be in prison.
Kiss you kids bum, go to jail. Beat your kids bum, your are parents-of-the-year.
The hypocrasy is numbing. And I seem to be the only one who sees it. This mixed signal that hurting is good and loving is bad is beyoind confusing.
And most confusing is this: we send thousands of those children every year to either die or be mutilated beyond repair....or to have someone other young person shot or multilated beyond repair. This as the elders in charge have state dinners, laugh for the cameras, cavort with thier concubines, and play golf, while either pretending that they care, or just not caring at all.
When you think about it, the societally acceptable practice of war, is, in many respects, the worst form of child abuse.